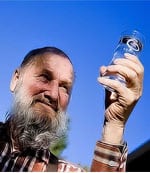 The Tyrolean pioneer of water passed away peacefully in his 83rd year, and was able to "go home" after a very moving life with many highs and lows, as he himself described death.
Johann Grander was practically born with a strong interest in reseaching and experimenting, as his father was a talented technician and expert in engines. The water pioneer was born on April 24th, 1930 in Jochberg and was very inquisitive and a quick learner from a young age.
His working life as a truck driver all the way to running a gas station and cement-mixer master has passed in a very colourful, varied fashion. In 1978 he finally gave up his profession in order to dedicate himself solely to his research. Only a very few people are brave enough to follow their inner voice. Johann Grander did, in fact, do just this.
During those long, often difficult periods of time from the first observation in nature to the discovery of water revitalisation his religion, his intuition and his family all provided him with the power to go on.
With his knowledge he managed to introduce a new understanding for water, which is followed by millions of people nowadays, over 30 years ago. Healthy living begins with lively, energetic water.
Johann Grander christened his new discovery water revitalisation without knowing that he would become the creator of a new term used world-wide. Today GRANDER is a term associated with high-quality water. All over the world GRANDER water revitalisation has been installed and used in industrial companies, in the hotel and restaurant business, in agriculture and in particular within private homes. The increasing number of users appreciate the numerous benefits that come from revitalized water.
Johann Grander has been awarded numerous prizes and honoured for his service and his life-long work. However, the greatest honour for him has always been helping humans, animals and nature with revitalized water.
As a nature-loving, religious person he remained modest to the end and always held nature and creation in the utmost respect.
The visionary nature researcher from the small village of Jochberg in the Tyrol was far ahead of this time with his ideas. He recognized connections showing a direction, that were often understood and accepted by the public years later.
He realized very early the importance of passing on his work and knowledge to his children. As a result, his son Johann Grander Jr., who actually assembled the first water revitalisation device with his father by hand, has taken on his father's know-how for many years now, and he continues the life-long work of the pioneer together with his siblings: Heribert, Johanna and Stephanie.
Water revitalization is constantly being further developed and will live through future generations, and will continue to be of great importance for humans and nature.